Notable Product Installations
The Field Museum, Chicago
The Field Museum is an educational institution concerned with the diversity and relationships in nature and among cultures. In 2011, their restrooms were voted America's best restrooms. The restrooms feature Express SS Lavatory Systems, which provide reliability and durability to the museums 3,500 daily visitors.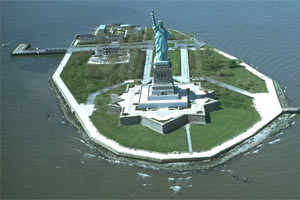 Liberty Island
Home of the Statue of Liberty, the iconic piece of land poking out of the Upper New York Bay is visited by thousands of people every day. In a recent remodeling of several restrooms, Bradley's Verge Lavatory Systems were chosen because their attractive design and durability features accommodate large groups of people.
Liberty Island
National Air and Space Museum, Washington DC
One of the Smithsonian's 19 museums, the National Air and Space Museum showcases 23 galleries exhibiting hundreds of aircraft, spacecraft, missiles, rockets, and other flight-related artifacts. The sleek and modern look of Bradley's Verge Lavatory System – two lavatories are featured in each the men's and women's restrooms – complements the high-tech style of this national landmark.
National Air and Space Museum website
Henry Maier Festival Park, Home of Summerfest
The festival grounds along Lake Michigan are home to the worlds largest music festival, Summerfest, and many of Milwaukee's other summer celebrations, hosting up to tens of thousands of people daily. A number of the restroom are outfitted with the reliable and durable Multi-Fount Washfountains, and others feature the lasting elegance of Verge Lavatory Systems.
Summerfest Website
National Aquarium, Baltimore, MD
The National Aquarium is Maryland's largest paid tourist attraction, with 1.4 million annual visitors. The facility features three pavilions of attractions and a living collection including more than 16,000 animals from more than 660 species. The durable and attractive Verge Lavatory System stands up well to steady and heavy traffic in such facilities, and is being used in each the men's and women's restrooms.
National Aquarium website
Indianapolis Zoo
Opened in 1964, the Indianapolis Zoo now plays a major role in worldwide conservation and research, and hosts a million visitors each year.
The zoo has installed Frequency Lavatory Systems to provide comfortable access to any patron without having to mount separate fixtures.
Indianapolis Zoo Website
The Varsity
Located in Atlanta, GA. The World's Largest Drive-in Restaurant has been serving customers since 1928. The Varsity has installed Verge Lavatory Systems to update the look of their restrooms.
Varsity Website
O'Hare International Airport
Voted "Best Airport in North America" for 10 years running, O'Hare International Airport is the third busiest airport in the world.
O'Hare's restrooms feature Frequency Lavatory Systems to provide accessible hand washing to the over 66 million passengers that traveled through its gates in 2010.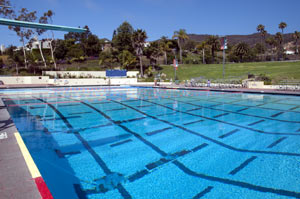 Pepperdine University
Site of the 1984 Olympic Games water polo competition, the Pepperdine women's swimming and men's water polo teams play their home events at Raleigh Runnels Memorial Pool, a facility recognized as a sparkling blue jewel carved amidst the rugged Santa Monica Mountains.
The pool's locker rooms are outfitted with Lenox Lockers to stand up to the moisture and pool users while keeping an attractive finish. See the case study for more details
Pepperdine University Website