Bradley Corporation Innovations
Innovation is the hallmark of successful companies. Over the years, Bradley has used its innovative thinking to create a diverse product line focused to serve any commercial washroom application. The principals of creativity, craftsmanship, and quality continue to drive product innovations now, and in the future. One thing is certain at Bradley the innovation pipeline never stops.
The Washfountain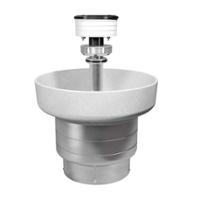 Introduced in 1921, the washfountain revolutionized handwashing. No other handwashing fixture could replace up to eight traditional china sinks, reduce water consumption by 80%, and increase usable space. Over the years, the washfountain has adapted to new technologies and now incorporates different sizes, shapes, materials, and features. Today, the concept behind the original green fixture remains unchanged - less water, less space, fewer materials, less maintenance.
Verge with WashBar Technology
The Verge with WashBar provides a sophisticated cast-formed quartz basin with the all-in-one WashBar. The basins have been precision engineered to contain water and soap suds within the basin. No more water splashing on users or dripping across the floor. This is especially convenient for users with mobility issues, they can clean + wash + dry in one spot without moving away from the sink.