Halo Eyewash and Eye/Face Wash
All the groundbreaking features of Halo now offered in stainless steel to withstand harsh, chemical environments. The stainless steel sprayhead is electro-polished to provide an extra layer of corrosion-resistant protection. A variety of standard models are available including pedestal, wall mount and combination units. And when even greater corrosive protection is needed, a heavy-duty 316-stainless steel combination unit is available.
In an emergency, your eyes and face can't trust anything but the best in the industry. The Halo eye and eye/face wash provides the best washdown coverage on the market.
Can't watch on YouTube?: "Mp4" "WMV"
Separate supply and waste pipes to eye/face wash are an industry first and Bradley exclusive! Meets CEN and Plumbing requirements

Enhanced dust cover design in clear translucent yellow allowing for easy inspection. When the cover is opened, water flow starts automatically - giving the user instant relief.

New ergonomic hand activation paddle is easy to reach from any direction.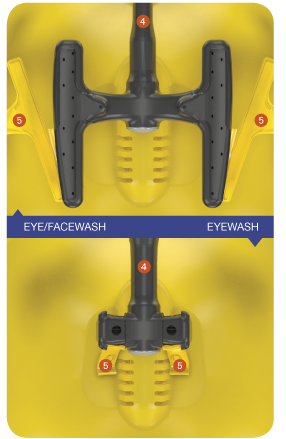 The Aquaduct design is the only self- draining design for standard eyewash models – another industry first and Bradley exclusive. The self-draining Aquaduct helps reduce the risk of bacteria growth when the unit is not in use.
Integral strainer inside the Aquaduct reduces debris in the water for additional eye protection and also prevents clogging.

New dust cover caps on the eyewash are hinged for a more secure hold - keeping dust and debris off the water spout.