LEED for Government Projects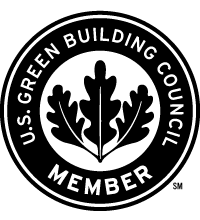 The Federal Government is the largest single "landlord" in the United States, overseeing approximately 500,000 buildings. Over $20 Billion is spent annually on acquiring or substantially renovating Federal facilities. More than $3.5 Billion is spent on energy for these facilities. This represents significant opportunity to incorporate sustainable technologies and practices, transforming Federal Buildings in design and development.
As a result, one of the important sustainable frameworks used by the Government in building design and development is the LEED (Leadership in Energy and Environmental Design) rating system maintained by the U.S. Green Building Council. Different levels of green building certification are awarded based on total credit points earned. LEED gives credits for incorporating specific sustainable design strategies into a building design. The design strategy categories include the following:
Sustainable sites
Water efficiency
Energy and atmosphere
Materials and resources
Indoor environmental quality
Innovation and design process
The U.S. Green Building Council updates the rating system and adds new categories of buildings periodically. LEED rating systems are applicable to: new construction and major renovation of commercial buildings; commercial interiors; core + Shell; existing building operations & maintenance plus specific programs for schools, healthcare, and retail.
U.S. Federal Government Buildings typically have to meet a minimum LEED "Silver" rating in renovations and new construction. This requires 50-59 points earned in the categories above. Because of this, federal agencies are expected to reduce their energy use by 3% per year from FY 2006 to FY 2015.
Most all Bradley products have Earthsmart features that support the LEED rating system. Products themselves are not LEED certified but contribute to earning points in a LEED certified building project.